TRAVIS THE LANGUAGE
                 TRANSLATOR
WHAT IS TRAVIS?
Travis is a portable device that uses artificial intelligence to translate speech to speech in 80 languages, all in less than two seconds.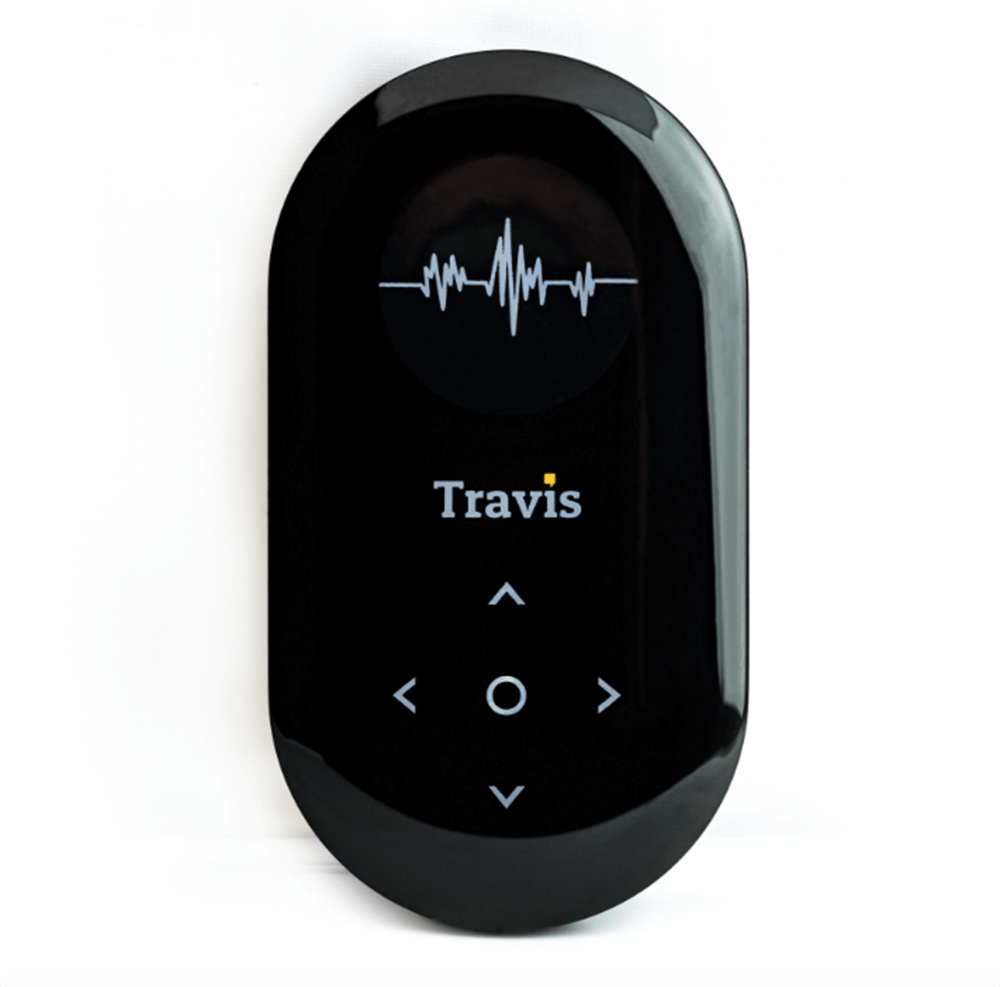 Travis language translator appears in CES 2018, it is a pocket-sized smart device, Travis includes offline and online mode, 12h battery life and several other features that make it a smart device.

speak language you know it can translate into selected language you have to know,
you speak with Travis it will speak with others.
LET'S GO GLOBAL & SPEAK LOCAL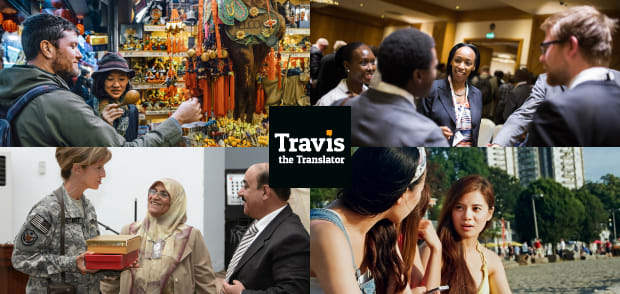 There are three different ways you can use Travis 
1.  Use built-in microphone & built-in speakers Travis hears what's being said via its microphones, and clearly repeats what is said in another language via its speakers.
2.  Use built-in microphones + earphones (wired/wireless)  Travis hears what is said via its built-in microphones, and repeats what is said in your ear via the wired/wireless earphones.
3.   Use wired headset + wireless headset (standard Bluetooth or Airpods). Travis hears what is said via the headsets and translates it in the other person's ear.
TECHNICAL SPECIFICATIONS:
1. DISPLAY 240X240 PIXELS
2. TOUCH SURFACE TO SELECT LANGUAGES
3. BLUETOOTH,WIFI, 3G SIM CARD SUPPORT
4. QUAD CORE PROCESSOR 2 SECONDS REAL TIME RESPONSE
5. Inbuilt BATTERY with 12 hours [offline] 6 hours[online]  7 days standby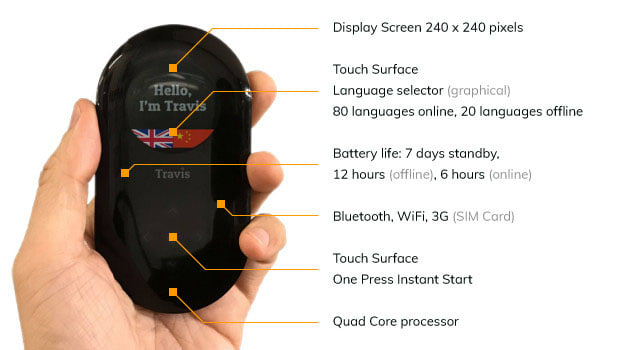 Unique Features of Travis Translator: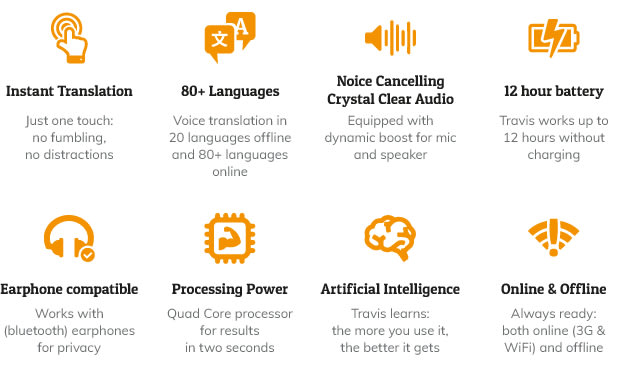 LANGUAGES LIST

:
20 Offline : Spanish, German, Chinese (Mandarin), French, Portuguese, Arabic, Italian, Japanese, English, Russian, Dutch, Polish, Greek, Swedish, Korean, Hindi, Hebrew, Thai, Turkish, Indonesian.
80 Online : Afrikaans, Albanian, Arabic, Armenian, Basque, Belorussian, Bosnian, Bulgarian, Catalan, Chinese (Mandarin), Chinese (Taiwanese), Chinese (Cantonese), Croatian, Czech, Danish, Dutch,
English (UK), English (USA), English (Australia), Esperanto, Estonian,Farsi, Filipino, Finnish, French, French (Canada), Frisian, German, Greek, Haitian Creole, Hawaiian, Hebrew,
Hindi, Hungarian, Icelandic, Indonesian, Irish, Italian, Japanese, Javanese, Kazakh, Khmer, Korean, Kurdish, Lao, Latin, Latvian, Lithuanian, Luxembourgian, Macedonian, Malay, Maltese,
Mongolian, Myanmar, Nepali, Norwegian, Pashto, Persian, Polish, Portuguese (Portugal), Portuguese (Brazil), Punjabi, Romanian, Russian, Scots Gaelic, Serbian, Sindhi, Slovak, Slovenian,
Spanish (Spain), Spanish (USA), Spanish (Mexico), Swedish, Tamil, Telugu, Thai, Turkish, Ukrainian, Vietnamese, Welsh.
Buy Any Gadget From Here :